Different Types of Physiotherapy Treatments Used for Sports Injuries
Physiotherapy is a common treatment when it comes to sports-related injuries.  Muscle strains or sprains happen with regularity in many different sports, and it's a physiotherapist's job to help an athlete get back into action.
Here are some of the different treatments used by physiotherapists when an injured athlete walks through the door.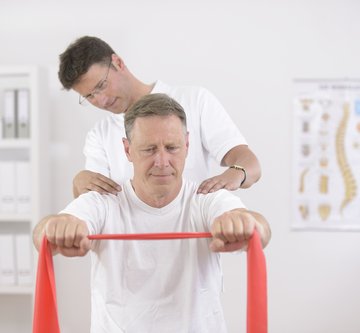 Ice or Heat

Applying ice or heat to the injured area is one of the first things many physiotherapists will do to help reduce pain and swelling or increase blood flow to the injured area.  The ice helps to lessen swelling and fight pain and heat softens the muscle tissue and picks up the blood flow. 
Massage
Therapeutic massage is also called soft tissue mobilization, and it is used to help relieve tight muscles or spasms caused by injury.  Sometimes in a physiotherapy session, the therapist will perform some massage to get the muscles ready for the next area of treatment. 
Stretching

Maintaining or creating flexibility in injured muscles is an important part of any treatment.  To help enhance your range of motion, the therapist may instruct you to perform various stretches, or might stretch your muscles manually.  In either method, it's important to try and relax and keep breathing all the way through each stretch. 
If flexibility is a concern, you may also be prescribed range of motion exercises to help keep your joints free-moving and flexible.  A few different types are:
Active Range of Motion Exercises
Passive Range of Motion Exercises
Active Assistive Range of Motion Exercises
Strengthening

Weak muscles are another by-product of sports injuries, and physiotherapy often includes strengthening exercises if weak muscles are an issue.  The therapist will usually tailor the exercise routine to your fitness level and which muscles were affected.
Electrical Stimulation

After an injury that required surgery, or in cases of paralysis, electrical stimulation may be used to help prevent muscular atrophy.  Electrodes are placed on strategic parts of the skin, so when they are pulsed, the muscle will shorten.
If pain is the issue, a TENS (transcutaneous electrical nerve stimulation) device may be used.  This sends a low current through the electrodes and into the muscles. 
Patient Education

Educating the patient is always one of the underlying goals of physiotherapy.  Your therapist will educate you about your injury, what to watch for, future injury prevention tips, as well as what you can do at home to get better faster.
It makes sense to pay attention anytime your physiotherapist tries to explain something to you.  Chances are, it will be information that you'll find useful in the future. 
Featured images:
 

License: Royalty Free or iStock

 

source: http://depositphotos.com/
This post is brought to you by Matt Peterson, a personal fitness trainer. For injuries related to sports and the like, he recommends Activa Clinics - Kitchener 625 King Street East #2d Kitchener, ON N2G 2M4 (519) 342-0000 for quality and expert physiotherapy Brampton, Kitchener and Scarborough service