8 Ways to Reduce Stress at Work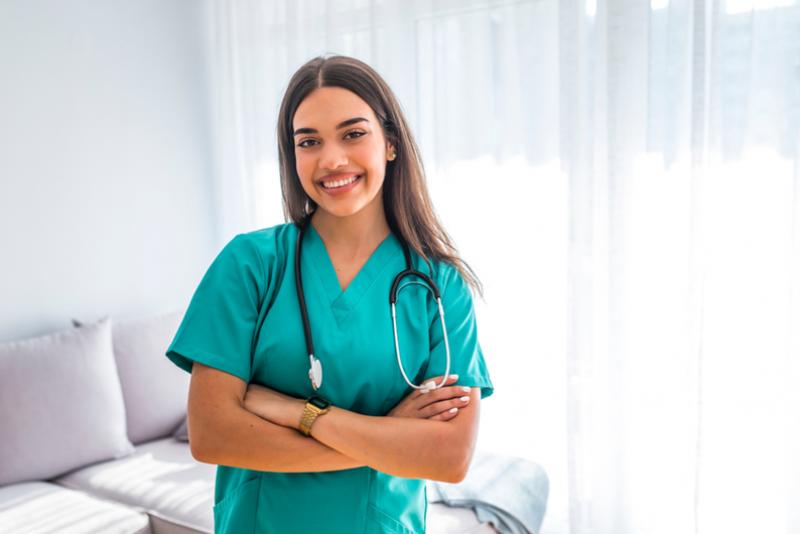 Source: Dragana Gordic/Shutterstock.com
No matter what's causing it, stress in the workplace can be incredibly taxing, leading to adverse effects on your personal and professional life. This can result in burnout over time, especially in a fast-paced healthcare field where nurses routinely work 12-hour shifts. While everyone needs a break once in a while, there are ways to reduce stress in the moment, to help you deal with challenges you face at work. Practicing relaxation techniques, wearing comfortable nurse scrubs and knowing your limits can help you keep stress levels low and give your patients excellent care.
1. Recognize Your Stress Triggers
A litany of things can cause work stress, whether misplacing your favorite scrub jacket or starting long-term treatment for a high-maintenance patient. Over time, these stressors can pile up, making it difficult to tell what's bothering you. When you find yourself getting stressed out by work, keep a log of:
What happened
Where it happened
The people involved in the situation
How you felt
What you did in response
By understanding your triggers, you develop coping techniques to employ when these instances arise, helping you stay calmer during your shift.
2. Pace Yourself
Many healthcare workers get caught up in the chaos of a medical practice, especially in fast-paced settings like emergency care. Unfortunately, that makes it easy for you to spend too much energy too fast, wearing yourself out well before you can take a break.
To combat burnout, devote an appropriate amount of attention and energy to each patient you attend to so that you don't wear yourself out too quickly. If you feel too rushed, speak with your coworkers about dividing up responsibilities or take your concerns to your supervisor. Pacing yourself throughout the day may require cooperation from the whole team but, once you reach an acceptable workflow, you can benefit from less stress.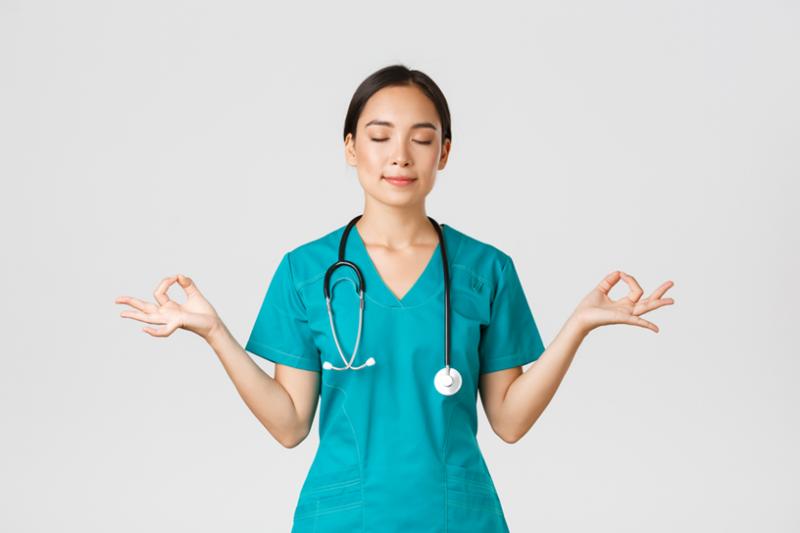 Source: Mix and Match Studio/Shutterstock.com
3. Practice Relaxation Techniques
Relaxation techniques are essential in a healthcare setting. Tackling your emotions as soon as you feel stressed can prevent a challenging situation from escalating and help you manage stress before it builds up to unsustainable levels. To relax and loosen up tension or anxiety, you might try:
Deep breathing
Meditation
Mindfulness exercises
Progressive muscle relaxation
Guided imagery or visualization
A 2022 review found that nurses who used Mindfulness-Based Stress Relief techniques over eight weeks showed reduced anxiety, depression and stress. Holistic stress-relief methods, like breathing and visualization, can help you cultivate a less stressful experience at work.
4. Remember Your Limits
Healthcare is an unpredictable field, and you might feel the urge to help every patient you interact with. Keep in mind, however, that there's only so much you can do. Taking on mental responsibility for every patient you meet can lead to exhaustion and compassion fatigue. You cannot be responsible for everyone, so it's best to focus on giving the patients you can help the best care possible.
5. Dress Comfortably
Gearing up in comfortable scrubs affects the amount of stress you experience on the floor. A good set of scrubs won't have any uncomfortable tags or seams to irritate you throughout your shift and will be flexible enough that you can easily move around in them.
Properly sized scrubs aren't just comfortable; they also make it easier to perform your daily duties. Too-tight scrubs can cause you to readjust throughout the day and take your focus off your patients. If you wear scrub bottoms that are too big, you might catch them on a patient's bedside or wheelchair, hindering efficiency and causing a distraction. To minimize wardrobe-related stress during your day, wear comfortable, flexible scrubs for women that fit your body without being too tight or loose. Opt for high-quality scrub pants that fit well and look professional to simplify your job and reduce stress.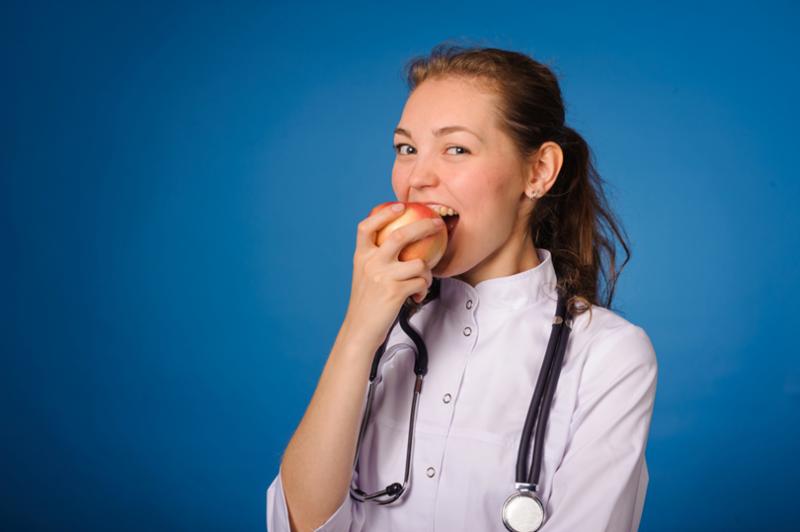 Source: Sobris/Shutterstock.com
6. Indulge in Self-Care
It's easy to become swamped by work demands, especially in jobs where there's never a moment's rest like nursing. However, that doesn't mean you have to neglect your own needs. Set aside time to take care of yourself, whether that means getting a massage, putting on a luxurious face mask or having your nails done at the salon. Make sure you eat regular healthy meals, spend time outdoors, exercise and get plenty of rest. Avoid any urge to skip out on sleep, binge on junk food or alcohol or engage in other unhealthy habits; it may feel good in the short term, but it'll make you feel worse in the long run.
7. Take Time Away
It can be difficult to separate work from your day-to-day life, especially if you have a hybrid work schedule or have a lot on your plate, but not disconnecting from work means you don't really have the chance to turn off and unwind. Frontline workers, like medical professionals, need to unplug and get away from the daily grind. A well-deserved break provides mental clarity, enhances productivity and improves focus. Mental health is as important as physical health and can keep you balanced and a better employee in the long run.
8. See How Your Company Can Help
Sometimes, you'll need some extra help to reduce your stress at work. If you've taken steps to reduce stress and are still struggling or burning out, take some time to talk to your supervisor and see if there's some way they can help. For example, you might be able to trade shifts with a coworker or reduce your on-call hours.
If the stress is truly becoming too much to handle, your company might be able to help you find outside help. Some companies offer an employee assistance program, making it easier for you to access therapy or other services to help you manage what's happening at work. Ask what benefits your employer's EAP provides.
Lower Your Stress Levels on the Job
Jobs in the medical field are rewarding yet stressful. This makes it critical to consistently take time out for self-care, whether taking a 15-minute break, practicing mindfulness meditation or even picking out comfortable scrubs before each shift. Arming yourself with techniques and strategies to reduce stress on the job equips you to give patients the care they deserve.