Finding Memory Care for Your Loved One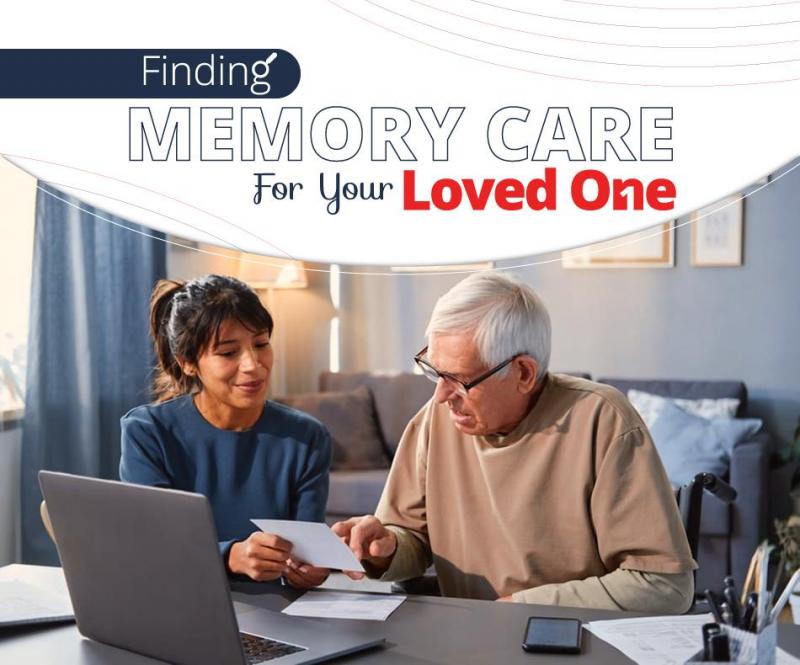 Introduction: Suppose you are finding memory care for your loved one having Alzheimer's and dementia but don't know how to evaluate them. The way to find a memory care facility is you can take professional help with expertise in the field of elder care. The most popular way to search nowadays is online. You can contact some trusted online resources, such as the state Department of Social Services, with facilities that are regulated and set as per desired standards.
1)   What is memory care?
Memory care facilities are residential care facilities that support the life needs of those suffering from memory impairment conditions or Alzheimer's disease. Memory care facilities offer 24/7 medical treatment and personalized care plans with trained staff to cater to needs and programs and to promote the best quality of life-based on their unique requirements. Placing your close ones in a memory care community will ensure they're monitored and observed continuously for various unusual behaviors because of Alzheimer's disease.
2)   What are the benefits?
Many communities offer private rooms or suites, which can give a feeling of living in a small
       neighborhood that can create a comfortable residence.
       and effectively respond to behaviors or symptoms resulting from Alzheimer's disease.
Some activities at the Memory care facilities improvise memories and encourage the residents
       to interact with others, socialize and relive their old memories.
Memory care communities prepare and present nutritious food and provide assistance, utensils
       and a comfortable dining area to encourage the resident to eat.
Communities offer a safe and secure environment; even if the residents go outside, they remain
       secure due to an enclosed courtyard.
3)   Steps for Choosing a Memory Care Community for Your Loved One
The tips below might help you to decide which memory care community is suitable for your close one
a) Do They Specialize in Memory Care?
It is crucial to have information about every potential memory care community regarding their stance and treatment of patients with impaired memory to find out if they're ideal for your close ones. Some seniors living communities fail to provide robust memory care to Alzheimer's or dementia patients. As a result, many patients experience further deterioration of their faculties.
b) How do They Go About it?
 If a community hesitates to answer any of these questions, how does the memory care community treat patients with Alzheimer's? Memory loss differs for everybody, so does the community cater to how this disease affects different individuals? They are not the best choice for your close ones. Another critical question is: What are their treatment criteria for medication or use of non-drug therapies to help with changes in memory? However, if the community is well equipped to answer these questions and assures you that they can take care of your close ones, then you have chosen the right center.
c) What Else Do They Have to Offer?
It's not just a health facility; it's a living arrangement that gives a homey ambiance. It offers emotional and mental support and medical care to your close ones.
4) Some of the factors that may influence your decision include:
Location: Is the facility far, and will you be able to visit your close one or get there whenever you want to?
Services and care: Compare the various programs, services, and care offered at each facility and choose which one is the best fit and provides the most services that will benefit your close one daily.
Activities: Did they offer art, music and gardening activities and programs?
Meals and nutrition: Do you check if they provide nutritious diet options for your close one every day? What are the meal plans, choices, and schedules?
Staff training and safety measures: Ensure the memory care facilities implement safety measures and have well-trained and knowledgeable staff.


Costs and conditions: Compare the costs of each facility with the amount of care and services provided. Different geographical locations will have different costs, i.e. memory care facilities in New York will not cost the same as memory care in New Hampshire, for example. Investigate all the relevant factors critical to your close one, such as environment, staff expertise, cleanliness, etc. The expensive facility doesn't need to be always the best quality.
5)Tour New Perspective's Memory Care Communities Today: Tour of Memory Care  Communities with the family members makes you gather as much information as possible about the communities you're considering. It is essential to ensure that they have some daily engagement programs, such as communal games and events, trips to local attractions, and home-cooked group dining. Group activities positively impact your close one's mental well-being as they're more likely to feel engaged, connected, and appreciated in their new environment.
6)  Memory Care within a Nursing Center: Memory care within a nursing center can be a good option for your close one with dementia. Dementia care homes offer specialized care, including 24/7 supervision, meals, and activities tailored to cognitive abilities. These are typically smaller than traditional nursing homes, providing a more intimate and nurturing environment. Many Alzheimer's care facilities offer memory care within a nursing center. These facilities typically have trained staff members experienced in dealing with Alzheimer's patients.
7) The Bottom Line: Many families cannot provide the level and quality of care their close one needs if they suffer from a disease such as Alzheimer's or dementia. With time, increased symptoms and behaviors will require more maintenance. The dementia or Alzheimer's care community can be the best solution to provide everything your close one needs. Still, it is essential to investigate and find a facility that will be suitable for your close one.