The Specializations of a Clinical Nurse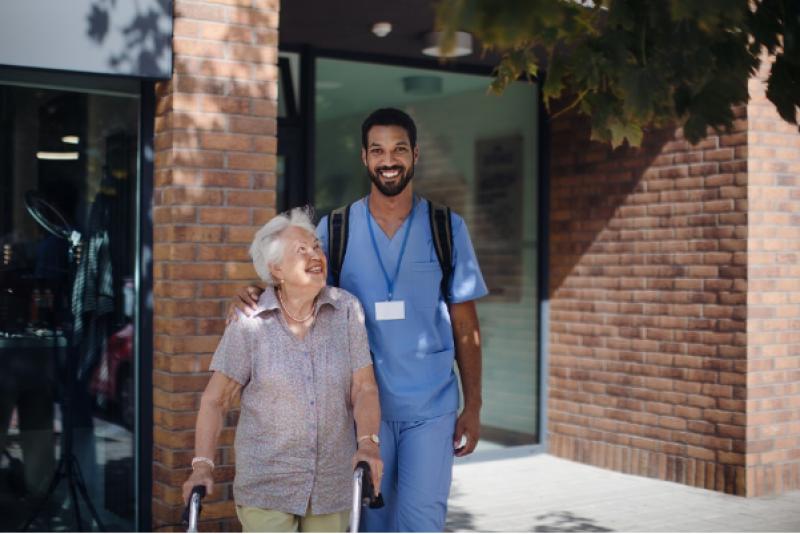 Nursing is a skilled profession with excellent long-term job security and many opportunities for promotion. After working as registered nurses (RNs) for a few years, many nurses consider advancing their careers and becoming qualified as advanced practice registered nurses (APRNs). An APRN is not a single role, but rather a term that refers to a number of nursing professionals, one of them being the clinical nurse specialist. This too is not a single role but one that can be applied to a variety of specializations. Training as a clinical nurse specialist allows nurses to follow a path into an area of nursing that particularly interests them, becoming experts in care in that area.
No matter what area of medicine clinical nurse specialists choose to work in, there are four main roles that they can undertake that give them greater responsibilities than RNs. These roles are educators, expert clinicians, managers, and researchers. While some clinical nurse specialists will have a position that encompasses all four roles, often they will focus more on a specific role within their specialty.
Educator
An effective health service requires well-trained professionals and there is always a demand for new nurses to enter the profession. The highest standards of training are required both in the classroom and for student nurses on clinical placements. As educators, clinical nurse specialists set up training programs for their student nurses to ensure they get the most out of their clinical placement and are well-prepared for when they are licensed for work. As those in charge of the programs, the clinical nurse specialist will also need to research the most effective ways to manage their nursing programs.
They will observe student nurses both formally and informally, providing them with feedback on their progress and identifying areas that need to be improved. From this, they will also need to implement strategies to allow students to develop their skills. Eventually, they will play a key role in evaluating the success of students on their clinical placements.
They will also work closely with new nurses, overseeing their continued professional development. As nurse educators, they may take on the role of the mentor or coach to support both new and more experienced nurses in their teams. When new equipment or procedures are established, it is often the clinical nurse specialist in their role as educator who will demonstrate how these work.
As well as educating other nurses, the clinical nurse specialist as an educator may be involved in setting up community programs to educate the public in areas of health such as diet and exercise or to help patients learn to manage specific conditions such as diabetes, asthma, or epilepsy.
To become a clinical nurse specialist you will need to undertake further study through a master's or doctoral degree program. Becoming a nurse educator is such a specialized role that it is a good idea to check that your degree program fully covers it, particularly if this is an area of nursing that you want to focus on.
Further study does not mean you have to give up your current employment, as there are online programs that are designed to fit in around your work. These are often offered by top universities and are fully accredited. Examples of effective programs for those keen to be a nurse educator can be seen at Spring Arbor University Online. Their online BSN to MSN and RN to MSN nurse educator programs are CCNE-accredited and prepare their students to be able to educate the next generation of nurses.
Expert clinician
The exact duties of a clinical nurse specialist as an expert clinician will vary depending on their area of expertise. But generally, they work with greater autonomy than RNs and use their extensive nursing experience and expertise in patient care.
They can play a vital role in every part of patient care, from gathering medical histories, carrying out physical examinations, and ordering tests, to making diagnoses and prescribing medications and other treatments. They will work closely with other medical professionals such as helping with surgical procedures and can treat patients for post-surgery complications. Before surgery they will be part of the risk assessment process, working with the surgical team to identify any potential problems in advance. It can also be the responsibility of the clinical nurse specialist to communicate with other medical professionals and ensure they have all the patient information they need to effectively carry out their role in patient care.
Throughout the process they will work closely with patients and their families, involving them in the decisions on how best to manage a condition.
Manager
Many clinical nurse specialists will also take on managerial roles within hospitals or other healthcare settings. As managers, they need to supervise and organize other nursing staff to ensure optimal levels of patient care, including making sure that staff and resources are allocated to where they are most needed.
They can also be responsible for identifying areas of nursing practice that need improvement and developing new nursing practices and policies to improve the nursing standards of their healthcare setting. In their management of staff, they are also responsible for identifying nursing training needs and ensuring that this training is delivered.
Researcher
Ongoing research is vital to bring improvements to nursing care and to gain greater insights into the effectiveness of how diseases and conditions are managed. Through these insights, new treatments, procedures, and medications can be developed. As a researcher, a clinical nurse specialist plays a vital part in this process. With their skills in evidence-based practice, a clinical nurse specialist is ideally placed to be able to carry out this role efficiently and effectively. They may hold a research position, but clinical nurse specialists should also be evaluating their practices in their clinical duties, managerial position, or educational roles and looking for ways to make improvements.
As researchers, they can design evidence-based practice studies and analyze the results, or they may evaluate the research proposals of others and assist in their implementation. They will also look at the results of research, either carried out by themselves or others, and look for the best ways to implement the findings in their healthcare setting. As researchers, it is important for the clinical nurse specialist to stay up to date on the latest research that may be ongoing throughout the county and beyond.
Regardless of who is leading the study, any work carried out with patients often requires a clinical nurse specialist to be part of it. In this role they work closely with the patient, making sure they fully understand the study and what they are agreeing to, as well as ensuring that patient safety is prioritized and maintained throughout.
Medical specializations
All areas of medicine require clinical nurse specialists, allowing them to focus on an area that particularly interests them. All of the departments will require clinical nurse specialists to work with patients, manage staff and resources, carry out research, or educate the new generations of nurses. The precise roles will vary from setting to setting, but a clinical nurse specialist who, for example, wants to work primarily in a nurse educator role will likely continue to have some clinical duties but will spend more of their working life developing training programs for student nurses on their clinical placements, monitoring and teaching them, and evaluating their progress.
There are many specialized areas of medicine and each will have their own requirements of their clinical nurse specialists.
Neonatology
Neonates are the tiniest and sometimes most fragile of patients in a hospital. While most babies are born healthy, many newborns need specialist care. The likelihood of specialist care being needed is increased if the infant is born prematurely, suffers from congenital conditions, or had a complicated birth. Providing care to both the patients and their families, neonatal nurses may continue to work with their patients until the age of two if necessary.
Pediatrics
Pediatric clinical nurse specialists too work with both their young patients and their families. They can work in hospitals, primary care clinics, specialty clinics, and even schools, usually caring with a holistic approach. It is an ideal role for those who enjoy working with children and their families and can involve working with the same patients throughout their childhood, perhaps even eventually continuing to work with them as they establish their own families.
Gerontology
Gerontology is another area that deals with a population that often requires specialized care. While there are nursing shortages in all areas, in an aging population, gerontology is a particular area that is seeing an increasing demand for good nurses, including clinical nurse specialists. In gerontology, the nurses will work with the conditions that become more common in old age such as diabetes, and cognitive conditions such as dementia. The aim is to keep the patient in as good a health as possible, allowing them to make the most of their retirement and eventually their final years.
Oncology
A clinical nurse specialist may work with patients suffering from specific conditions. An example is oncology nurses, who treat those suffering from cancer. The oncology clinical nurse specialist provides advanced nursing care across all stages of cancer treatment including prevention and diagnosis, through to helping to formulate and implement treatment plans. They care for patients both physiologically and psychologically as patients navigate their cancer diagnosis, including preparing them psychologically for life as a cancer survivor. For those whose cancers prove to be terminal, the clinical nurse specialist will play a key role in palliative and end-of-life care.
Psychiatric health
Psychiatric clinical nurse specialists or mental health clinical nurse specialists work specifically with those suffering from psychiatric disorders. Unlike RNs, the clinical nurse specialist can work more independently of doctors, taking on greater responsibilities including diagnosing mental health conditions and sometimes also prescribing medication.
Women's health
Clinical nurses who specialize in women's health may work in clinics or hospitals, particularly in maternity, obstetrics, and gynecology departments. Among their responsibilities will be caring for women throughout pregnancy, through birth, and into the post-partum period. As well as the physical care, they may also be involved in preparing both parents for life with a newborn.
The emergency room
Clinical nurse specialists will also work in emergency care, although they will usually do this in relation to their specialism. For example, a pediatric clinical nurse specialist might work in the ER, rather than on a hospital ward or a clinic in order to provide expert emergency care to any children that are brought in. The ER is a fast-paced environment and will particularly suit those who are quick at thinking on their feet and who are experts in communicating with other medical professionals in emergency situations.
Becoming a clinical nurse specialist
For RNs considering their career options, becoming a clinical nurse specialist has many advantages. It will allow you to work in an area of medicine that particularly interests you and gives you greater autonomy in how you work. Additionally, it can provide ways that will allow you to contribute to the future of nursing such as by researching new practices and policies or through the training of student nurses, helping to fulfill the demand for good nurses that is set to grow ever greater.
Training options for RNs wanting to become clinical nurse specialists are readily available and can include accredited online master's and doctoral options that allow you to continue with your work as an RN while you study. Once you have completed your course you will be prepared to take the certification exam and meet any state licensure requirements.
As with all areas of nursing, there is a demand for good clinical nurse specialists, so the time and money invested in training will be likely to pay off with good long-term job security. As a clinical nurse specialist, you will enjoy a challenging, varied career where you will continue to make a difference every day. And for those who take on the role of nurse educator, the difference you make will continue into the next generation of nurses.